Vortron Industrial
vortron.com
____________

Air Knife Systems
____________

Vortron Air

Power
Centrifugal Blowers

Fast Facts
Quote Request
Air

Power Lineup
Inside Air

Power
2-Year Warranty
PDF Literature
____________

VT Gear Drive
Centrifugal Blowers
____________

Distributors
____________





Vortron Industrial
- Engineered Air Management Solutions
AirPowerŪ Group
1650 Pacific Ave.
Oxnard, CA 93033
TEL: 805-240-2516
FAX: 805-385-2927
sales@vortron.com




Air Power® Centrifugal Blowers: Fast Facts
Volume: 200-1600 CFM

Pressure: 30-150" H20 (1-6 psig)

Drive System: Belt-Driven

Motor: 3-Phase, 480/230v, 50/60Hz,
3 to 25 HP available

Applications: Industrial drying and
cleaning with blow-off nozzles or air-
knives, tank aeration, vacuum/exhaust.



Why Choose an Air

Power® Centrifugal Blower?

• Highest Efficiency - No other industrial blower can match


the performance of an Air

Power® blower at a lower energy cost.
• Highest Performance - Outperforms any industrial blower of


equal motor size and similar flow range.
• Best Durability - Outlasts any equally sized blower. 2-year warranty.


Belt Life: 8,000 hours (1 year at 24/7 operation)


Bearing Life: up to 80,000 hours (10 years at 24/7 operation)

Please Request a Quote:

option 1: Call 805-240-2516
option 2: Email sales@vortron.com
option 3: Submit the Quote Request Form:



A Vortron distributor will provide you with a quote and help answer any questions that you may have about our centrifugal blowers, including:

- Will this blower work for my application?
- Which blower model should I use?
- What accessories do I need?
- How much energy will I save?
- How soon can I get one?




[back to top] [quote request]
Also in this Section:

- Vortron's Air

Power® Blower Lineup - about specific Air

Power® blowers.
- Inside Air

Power® - the advanced technology inside every Air

Power® centrifugal blower.
- Air

Power® Warranty - Vortron's 2-Year standard warranty.
- PDF Literature - Blower Data Sheets, Compressor Maps, Brochures.





[back to top] [quote request]
Vortron's Air

Power® Blower Lineup

Each Air

Power® blower model (X40, J70 and Z40e) is available in different speeds and motor sizes. Vortron or your local distributor will help you select the right model, speed, and motor size for your application.







[back to top] [quote request]
Inside Air

Power®


Vortron's Air Power® line of compact centrifugal blowers has raised the bar for industrial blower performance. Volume and pressure not attainable with competitive single stage industrial blowers are now easily reached. All Air Power centrifugal blower models are aerodynamically optimized to meet particular flow and pressure requirements. All models are clean-sheet designs that were developed from the ground up to deliver the best efficiency, best durability, and best performance of any industrial blower available today. With peak isentropic efficiencies up to 80 percent, no other compact industrial blower comes even close.
A closer look reveals that Vortron Air Power® means business. All models are based upon modern, high-efficiency centrifugal compressor design principles, and feature aerodynamic performance that is vastly superior to the common, outdated blower technology that is currently still being used in most industrial blowers today. Vortron holds manufacturing and quality to aerospace turbomachinery standards, which enables Air Power® centrifugal blowers to consistently meet operating points and efficiency levels well beyond the reach of the competition. With an Air Power® blower, the elusive 100"H2O at 1000 CFM is not only easily reached, it's achieved at 80 percent efficiency!
High-Efficiency Compressor Stage

Air Power® centrifugal blower compressor stages are highly evolved and thoroughly tested designs, originating from years of experience in the production of thousands of centrifugal superchargers. A simple visual examination clearly shows the difference. All Air Power® compressor stages incorporate sophisticated impeller designs, coupled to either a channel or vaneless diffuser, with a progressive scroll, or volute exit stage.
| | |
| --- | --- |
| | Air Power® Impellers incorporate advanced features such as aerodynamically optimized inducer blading and splitters, and in some cases, backsweep and exit rake - all based on the pressure/flow objectives for the particular blower. Rather than simply changing the speed of the blower for different "models," each Air Power® blower is aerodynamically unique, so that the best possible performance is delivered for your application. |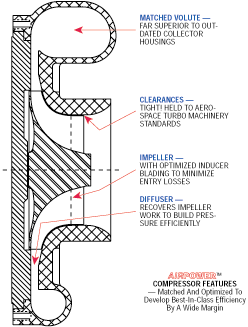 In order for a centrifugal blower to take advantage of impeller work effectively, flow must be diffused efficiently so high levels of pressure can be produced at minimum loss. Exclusive to Air Power® centrifugal blowers, Vortron incorporates diffusers, each matched optimally to the flow physics of the impeller, with numerous iterations tested until maximum level of efficiency is attained. A matched volute further collects and diffuses to result in additional pressure rise.
What is the result of this process? Isentropic efficiency up 80%! In fact, all Air Power® centrifugal blowers reach at least 75% efficiency, with over than 70% for the majority of the flow range (surge to choke). These efficiency levels are achieved at pressures which eclipse the performance of most competitive, single-stage industrial blowers by far. For Example, the Air Power® Z40e centrifugal blower can deliver 170" H2O (WC) pressure at 1200 CFM, at an efficiency of 78%! Looking at from another standpoint, a 20HP Z40e blower easily reaches the elusive operating point of 100" H2O at 1000 CFM.
Fresh-Aire® Cooled Spindle Assembly

Take note - Air Power® spindle assemblies are different from what you typically see in a industrial blower. Instead of the blower spindle housing being exposed to the internal hot compressed air stream, as is common with competitive industrial blowers, Air Power® centrifugal blowers incorporate a Patented Fresh-Aire® cooling system, which supplies an uncompressed, cool air stream to the spindle housing and bearings. This limits harmful temperature rise in the critical seal and bearing elements. Vortron has found that limiting temperature rise in its bearings increases longevity significantly. In general, a 20-degree increase in operating temperature will reduce grease life by one-half. In addition, an Air Power® centrifugal blower's higher efficiency further limits temperature rise and extends the life of the bearings even more.
The blower's bearing system incorporates angular contact (A/C) ABEC-9 class precision bearings. To better support the belt load, a duplex pair or bearings is positioned outboard. A/C bearings generate less friction and are better suited for use in high-speed blowers, hence less heat and temperature rise than deep groove ball bearing systems seen in competitive centrifugal blowers. The result is a greater margin for speed and load capacity, which equates to enhanced durability and extended blower life.
Air Power® Tensioning and Belt Life - In today's industrial blowers, automatic tensioning systems are seen as standard, but Air Power® centrifugal blowers incorporate a precision-machined idler system with proprietary features such as dual bearings for extended life. In addition, the entire blower drive system is enclosed and cooled by the Patented Fresh-Aire system. The reasoning behind this is simple: generally speaking, an 18-degree belt temperature rise can cut the life of the belt in half! Temperature rise in the Air Power® idler system and belt is managed by carrying away heat, and again, reliability and operating life are maximized. Industrial customers always place a high demand on idler and belt performance - Vortron Industrial has engineered a solution!
| | |
| --- | --- |
| Air Power® Precision Drive System Components- Engineered and manufactured entirely at Vortron Industrial, Air Power® precision drive system components raise the level of quality and sophistication in the Air Power® centrifugal blower line. Vortron machines blower pulleys from billet stainless steel and balances them to ISO G4 tolerances. Another unique part of the Patented Fresh-Aire system, the drive pulley with integral cooling fins is manufactured from cast aluminum, hard anodized, and precision balanced. This design makes sense - the large aluminum pulley allows for additional capacity to conduct heat and carry it away from the drive belt. | |
Air Power® Cover and Cast Mounting Plate -
Vortron's customers continue to demand centrifugal blowers not only with greater reliability and enhanced performance, but quieter operation as well - a tough bill because making pressure quietly is not easy. But, Vortron's ingenuity has done it again. As another part of the exclusive Fresh-Aire® system, the molded drive cover and cast aluminum mounting plate incorporate a sound-attenuating design which further manages potential sources of noise within the blower.
[back to top]
[quote request]
Vortron's Warranty and Service Program
Vortron Industrial maintains its commitment to quality with continued investment in state-of-the-art manufacturing and assembly equipment to enable the production of centrifugal blowers that meet the performance demands of today's industry. No other company, building centrifugal blowers today, holds tighter manufacturing tolerances than Vortron Industrial.
Warranty Policy - Vortron Industrial Air Power® blowers are warranted for two full years from the date placed in service (limited to 25 months from the date of shipment) for workmanship and material defect, to the original purchaser only. Should the blower fail, Vortron Industrial will examine the failure. If failure is determined by Vortron Industrial to be related to workmanship or material defect, Vortron Industrial will at its option repair or replace the blower
Parts and Accessories Policy - Vortron Industrial Air Power® spare parts and accessories are guaranteed for four (4) months from date of shipment for workmanship and material defect, to the original purchaser only. If failure is determined by Vortron Industrial to be related to workmanship or material defect, Vortron Industrial will at its option repair or replace the part.
Corrective Action - Vortron Industrial will provide a written report indicating reason(s) causing the failure, with corrective action recommendations. Failures determined to be due to abuse, misuse, misapplication or repeat offense will not be covered. Vortron Industrial will then advise options that may be available to you. Any failed unit that has been tampered with by attempting repair or diagnosis will void the warranty, unless prior written authorization has been provided by Vortron Industrial.
Local and National Support - Vortron Industrial understands that good service means being responsive. We know how crucial it is for our customers to have their equipment running efficiently at all times. For immediate assistance with service, repairs, or returns on all Air Power® centrifugal blowers and parts, please contact Vortron or your local distributor.
Motors for Hazardous Locations - Vortron Industrial will not be responsible for determining suitability, or for developing or certifying specifications, design, or construction of a motor blower assembly for installation in a hazardous, explosive location. The customer must certify and advise the proper NEMA motor enclosure. Should the customer desire to use standard TEFC motors as a substitute for explosion-proof motors, the customer must certify the application to be in accordance with local, state, and/or federal codes relating to the use of motors in an explosion proof location.
Vortron's warranty covers repairs or replacement of blowers only, and will not cover labor for removal, installation, accessories or other items not considered an integral blower part. Product returned for failures determined to be caused by abuse, misuse, or repeat offense will be subject to an evaluation fee of $250. Maximum liability will in no case exceed the value of the product purchased. Shipping and freight costs are the responsibility of the purchaser; Vortron Industrial will not accept shipments freight-collect, unless prior written authorization is provided by Vortron Industrial. Damage resulting from mishandling during shipment is not covered by Vortron's warranty. It is the responsibility of the purchaser to file claims with their carrier. Other terms and conditions of sale are stated on the back of the order acknowledgement.
[back to top]
[quote request]
PDF Literature
4 Page Flyer - Air

Power® Blowers
Return on Investment
Selection Guide
Typical Industrial Blower System Operating Map
J70 Centrifugal Blower Data Sheet
J70 Compressor Map
X40 Centrifugal Blower Data Sheet
X40 Compressor Map
Z40e Centrifugal Blower Data Sheet
Z40e Compressor Map
CleanTech Magazine Article - Blower Efficiency
Air

Power® Blower Enclosure Data Sheet
© 2003-2013 Vortron Industrial